Lighten up your routine and get glowing!
Umbrella drinks, handsome strangers, laying out on the beach, late nights; It's officially spring break! Don't miss these beauty tips to get the most out of your much deserved break.
Time to pack that bikini, sunglasses and beach bag for a week of sun-drenched fun. There is nothing like those first delicious moments of sunshine each spring. And there is nothing quite as depressing as arriving home with a sunburn and distressed skin because you neglected crucial spring break beauty tips. Remember last year? It's all fun until someone tags you in a terrible picture. I know — We've been there, too.
We know you don't want to miss a moment of the party so simplify your routine with these easy spring break beauty tips and our top 3 beauty product must-haves for your beach bag.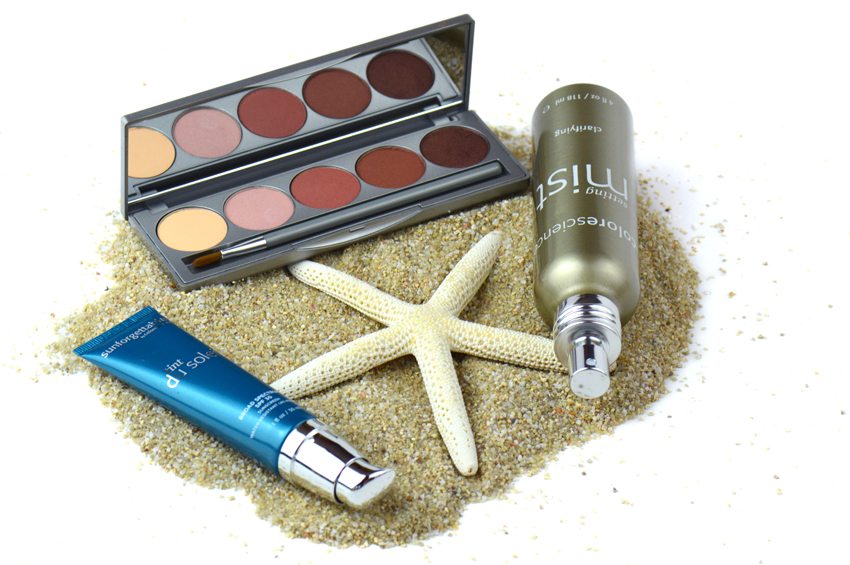 Lighten Up!
A face full of makeup on a spring break getaway just looks silly as any spring break veteran knows. You want to look fresh and glowing but definitely not overdone!
For a gorgeous glow, splurge on Colorescience Tint du Soleil SPF 30 UV Protective Foundation. It replaces your foundation, sunscreen and moisturizer to get you back on the beach sooner! BB Creams do everything from moisturizing to blurring imperfections without feeling heavy or sticky and you don't even need a brush! It comes in 4 fab shades to blend perfectly with your complexion.

Multi-task!
Imperfections? Blemishes? Dark spots? Camouflage, conceal, protect and brighten with Colorescience Mineral Corrector Palette. A makeup artist's essential, cast a spell on any imperfection with five skin-neutralizing shades and the confidence of SPF 20 protection. You can use this versatile palette a million ways: Neutral eye shadow base, correct dark spots, cover blemishes and many, many more!

Set It!
Keep your look in place all day while controlling excess oil and brightening at the same time. Colorescience Clarifying Setting Mist soothes the appearance of redness while balancing oiliness and giving blemish-prone skin an antioxidant boost. Activates vibrancy and luminosity in our makeup while keeping it in place all day! Plus, the mist will refresh you while out looking gorgeous.
With only 3 products to carry, you'll be able to fit them in that little TSA-Approved plastic baggie, so you know you'll look good even in mid-flight. Now go forth and party pretty!
Shop The Spring Beauty Event!
Save 20% OFF the entire site PLUS receive FREE Shipping and samples with every order!
Enter Promo Code SpringToLove at checkout.