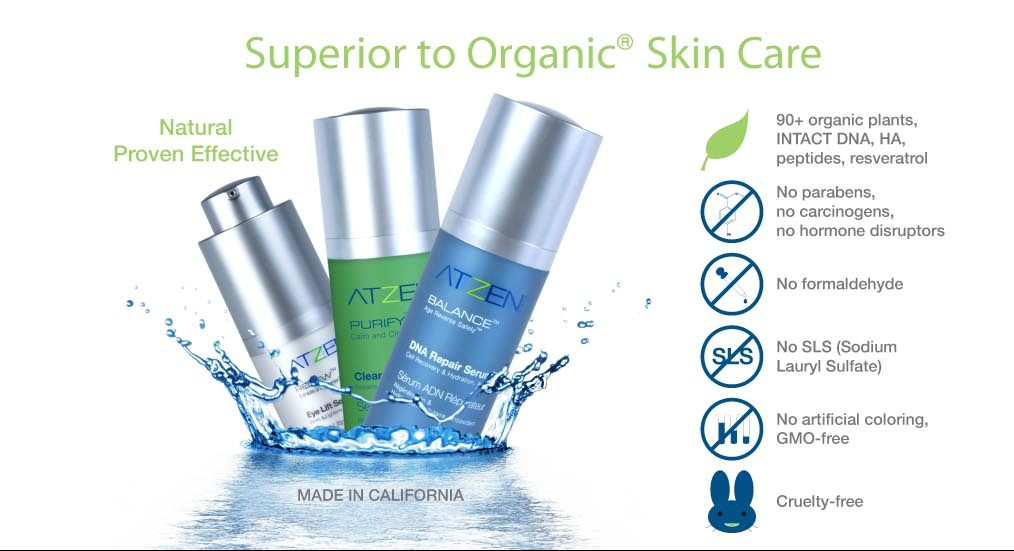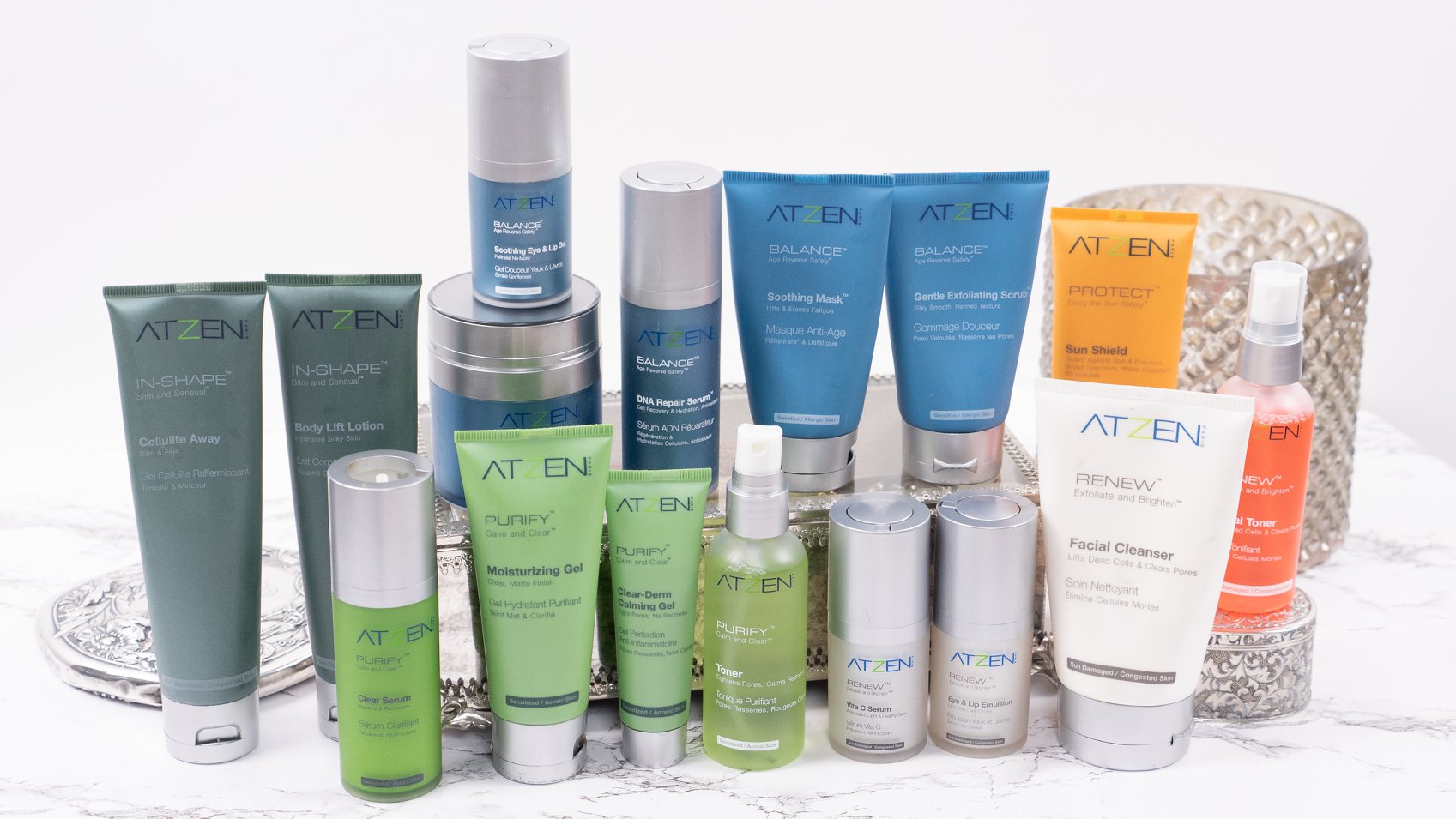 ATZEN® is based in the heart of Silicon Valley, well known not just as the global innovation nexus for technology but also for its green, eco-friendly and eco-sustainable lifestyle. ATZEN® embodies the convergence of technology and nature. If our award-winning products could speak, they will tell you a story of how much care went into developing and manufacturing our products to our highest standards of quality and effectiveness. ATZEN's trademarked Superior to Organic® series has 5 lines with 31 products (BALANCE™ – Age Reverse Safely™, PURIFY™ – Calm and Clear™, RENEW™ – Exfoliate and Brighten™, IN-SHAPE™ – Slim and Sensual™, and PROTECT™ – Enjoy the Sun Safely™) and represents the latest in natural ingredients and manufacturing technology.
Our proprietary formulations combine high percentages of organic plants, organic vitamins, algae, with scientific ingredients that work such as INTACT DNA® (ATZEN exclusive ingredient), peptides, resveratrol (pro-biotics from grapes), and ATP (liquid energy). In other words, the products are loaded with the most potent ingredients that work in synergy to maximize results. ATZEN® products have no parabens, no petrochemicals, no carcinogens, no hormone disruptors, no artificial coloring, no sodium lauryl sulfate (SLS), no formaldehyde, are cruelty-free and GMO-free. All of our products are made in California, USA in state-of-the-art FDA supervised labs with stringent quality controls and testing.
Until recently it was not possible to formulate products that are organic and natural, and also deliver outstanding skin improvements, because the ingredients were simply not available. Now they are.
Prior to ATZEN®, you had to compromise:
either apply chemicals every morning and night; (did you know that chemicals get absorbed deep into the skin and other organs and pollute your body with hormone disruptors and carcinogens? and what is applied on your skin gets absorbed better than what gets ingested in your stomach?)
or use organic or natural products that deliver little results because they have too few actives that work, too few ingredients to deliver visible and lasting results; often times these products are oily or lumpy, unstable and separate, or go bad or smell rancid before you can empty the jar.
ATZEN®'s founder, Catherine Atzen, always dreamed of developing very effective organic products that really work. She developed four product lines before this one, and progressively made them more and more organic and free of chemicals. As better ingredients became available, Catherine reformulated again and again. She searches five continents to find the best ingredients and works with numerous scientists in Europe, Asia, and the Americas. ATZEN® is the first company to formulate products that are loaded with safe scientific and organic ingredients, without using chemicals. Catherine Atzen will not compromise on results; she believes in using products morning and night that work, not just put a cover over your skin problems. As an example: if your skin is dry, how often have you had this experience? You apply the cream, your skin feels a little better, only to feel dry again mere hours later. The cream was just hiding the problem with an occlusive cream, doing nothing to correct the cause of your dryness which is the dehydration of your cells; this dehydration ages you fast, and if you tend to breakout, it will leave scars, large pores, redness, roughness, and brown pigmentation marks.
Not only does ATZEN® use natural and organic actives, we also use emollients and surfactants that are derived from olives and coconut, instead of petrochemical-based ones that are common in the industry. The reason is that the natural ones are healthier for your skin and body and work as well if not better. They give beautiful, silky and luxurious textures to all products. ATZEN®'s products are natural, safe, and effective and are developed for all skin types, even those with very sensitive skin.
To get to market, all ATZEN® products must pass Catherine's efficacy tests:
for the face, the products have to transform the skin, calm sensitivity, firm, reduce and prevent wrinkles, heal and control/prevent acne, reduce pigmentation marks, tighten pores, make the skin silky soft and porcelain-like, and keep signs of aging away for a future of healthy skin;
for the body, the products have to prevent and reduce stretchmarks and cellulite, make the skin soft and firm.
Catherine's skin is a living testament to the effectiveness of the ATZEN® products. Anyone who is lucky enough to meet her marvels at how perfect her complexion is; furthermore she never wears foundation or powder even when she appears on TV or at social events. In her own words:
"Touching my skin when I wake up puts a smile on my face: It feels so soft. When I look in the mirror I get energized for the day. When you have good skin you gain confidence, you keep your head high, you glow, and everyone notices! To achieve this I don't need harsh peels or lasers, I use the same products available to you on this website!"
Good skin care is part of a "wellness" lifestyle. It is easy and takes five minutes morning and night, in just 3 to 5 steps: cleanser, toner, serum, moisturizer, and sun protection. A couple of times a week, Catherine does her "at home spa facial", a 10 minute ritual that includes one of her gentle scrubs to exfoliate dead skin cells, and a mask to nourish and quench cells with moisture. It is that simple.
Beauty-Addict.com is proud to be an Authorized Seller.
Beauty-Addict.com only sells authentic products that are straight from the manufacturer. We will price match ANY authorized re-sellers.