Proven visible results of SkinCeuticals Age Defying Laser + Antioxidant System:
26% improvement in discoloration
36% improvement in smoothness
27% improvement in overall skin appearance
19% improvement in facial wrinkles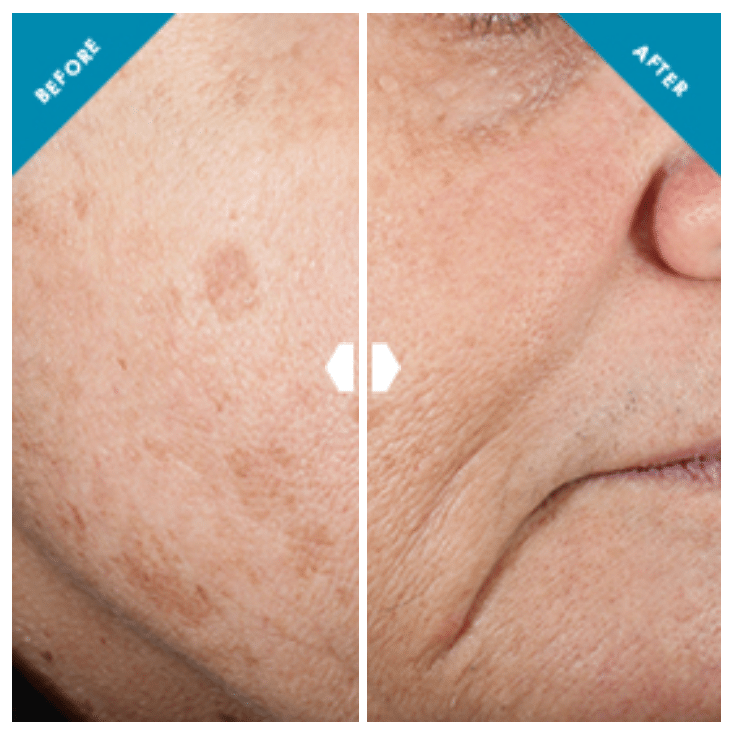 Clinical Study Protocol: A randomized, split-face, 24-week clinical study was conducted on 37 females ages 40-65 years old with moderate dyschromia and wrinkles, mild redness and the presence of dark spots. Phase 1 (12 weeks): Age-Defying Laser (ADL) alone on facial side 1 and ADL + SkinCeuticals C E Ferulic and Resveratrol B E on facial side 2. Phase 2 (2 weeks): No treatment. Phase 3 (10 weeks): Group A (17 subjects): No treatment. Group B (16 subjects): No treatment on facial side 1 and SkinCeuticals C E Ferulic and Resveratrol B E on facial side 2. Both sides were provided moisturizer (as needed) and daily SPF.
Innovation 1: Tria Age-Defying Laser
Works safely below the skin's surface to activate the skin's self-repair for a smoother, more youthful complexion
Innovation 2: C E Ferulic
Enhances protection against environmental damage by neutralizing free radicals caused by UV, infrared radiation, and pollution to improve the appearance of fine lines, wrinkles, and firmness.
Innovation 3: Resveratrol BE
Comforts skin and reduces tightness when used post-laser. Supports skin's natural antioxidant defense system to improve the appearance of radiance and elasticity.
Why are SkinCeuticals products different?
SkinCeuticals products are backed by science from the first stages of their development through the packaging of the final formulations. Extensive medical-grade clinical testing that proves our products' efficacy sets SkinCeuticals apart from other cosmeceutical brands on the market.
What standards are followed in the formulation of SkinCeuticals products?
SkinCeuticals is committed to the highest, medical-grade formulation standards, and uses only pharmaceutical-grade ingredients. We subject our final formulations to extensive clinical testing that proves they deliver on their claims. Our products are produced in small batches and packaged under closely monitored, sterile conditions to ensure optimal potency and freshness.